Breakfast
In the dining room guests can enjoy an Italian or a hearty continental breakfast, included in the price:
espresso, cappuccino
tea, infusions, chamomile
fruit juices
yogurt
eggs
marmalades
homemade cakes
toast
honey
cereal
cheeses
cold cuts
During the summer breakfast can be served on the outdoor patio.
Every evening a sumptuous dinner prepared by Nicola, our chef.
The menu varies from day to day according to the seasonal availability of our garden.
Dinner is accompanied by local wines such as Orvieto Classico and Orvietano Rosso.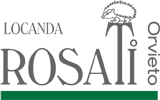 Loc. Buonviaggio, 22 / 05018 Orvieto (TR) – Italia