We provide shuttle and private transportation for our guests.

Locanda Rosati is on a hill just a few kilometers from Orvieto. Following the road that leads from Orvieto to Bolsena, the on the right you are just 9 kilometers from the highway. It is an old stone farmhouse of the late last century, beautifully renovated and furnished with care for the pleasure of guests and owners who live there.
The Agritourism has nine bedrooms all with bathrooms, air conditioning, wi-fi and telephones.
Three common rooms are available to guests with two fireplaces. The dining room leads to the old hand-dug tufa cellar. The wood oven bakes delicious roasts and fragrant breads. In the large garden surrounding the house is the private swimming pool only for guests of the Agritourism, with old caves in the background.
Welcoming hospitality and good food will accompany you during your stay.
Locanda Rosati is full of pleasant surprises. For those wishing to enjoy the beauty of a country Agritourism and its garden. You can spend days by the pool in a corner of paradise surrounded by aromatic plants, flowers, trees and the beautiful countryside of Umbria on the border with Tuscany. Try flavors that follow the seasonality of products and recipes of fine cuisine, accompanied by the excellent Orvieto Classico Superiore or Orvietano Rosso wine to complete the experience.
The produce from our garden enriches the flavor of our dishes, always tasty, wholesome, and local.
Upon request, you can take cooking classes with Nicola (the Agritourism chef), who will reveal the secrets of simple peasant dishes, as well as small tricks to cook every day dishes, not complex and packed with flavor.
We also prepare recipes from our cook books, such as quiches, penne with red pesto, rabbit with herbs and black olives and many other great things of Locanda Rosati.
Our motto is "If you can, enjoy it all with all five senses." Enjoy the countryside, good food and the beauty of Orvieto with all of its wonderful history and art.
For those who want to learn about the wines of Orvieto, they are great traditional wineries in the immediate vicinity of Locanda Rosati.
Locanda Rosati is advantageously positioned geographically. Orvieto is at the center of many cities of art with their artistic beauties that can be regaled by visitors for days.
On the border between Tuscany and Lazio, you can see beautiful landscapes, from Val d'Orcia to the beauty of Civita di Bagnoregio. For those who enjoy a wellness day, the baths of Viterbo and San Casciano dei Bagni are less than an hour away.
You can also request an itinerary specifically suited to your desires and needs, subject to availability of time.
Locanda Rosati is the perfect place for your countryside wedding.
We organize customized weddings, immersed in a thousand scents and colors of the seasons in our garden.
Both in summer and winter, Locanda Rosati always has a family atmosphere, welcoming and very impressive.
In summer you can enjoy our swimming pool, garden and a pleasant scent of aromatic herbs, while in winter it is possible to celebrate with the warmth of the fireplaces present in our dining and living rooms.
Your wedding reception will be a unique and unforgettable experience, accompanied by the flavors of an authentic cuisine from the best Umbrian and Tuscan traditions.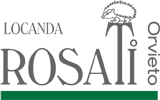 Loc. Buonviaggio, 22 / 05018 Orvieto (TR) – Italia